About Gripping Stuff
Your New way to display!
Gripping Stuff!® is a revolutionary range of adhesive products manufactured exclusively in the UK. This award-winning range of 'stick almost anywhere' products are removable, re-usable and repositionable without damaging your wall. Ideal for use in the classroom, home or office, Gripping Stuff will hold your notices, cards and posters safely and cleanly.
With our wealth of experience, customer knowledge and investment in product development, we have grown the range extensively over the years establishing our Gripping Stuff for Cards product as one of the most popular card hangers on the market and creating an innovative range of stick-able Dry Wipe boards.
All Gripping Stuff!® products are made with a water-based adhesive and carry the EN71 classification, making them safe for children.
We supply overseas and ship to most places in the world. We also welcome trade enquiries.
Our registered Address is: 74 Oldfield Road, Hampton, Middlesex, TW12 2HR
If you have any questions for our team, please email enquiries@grippingstuff.com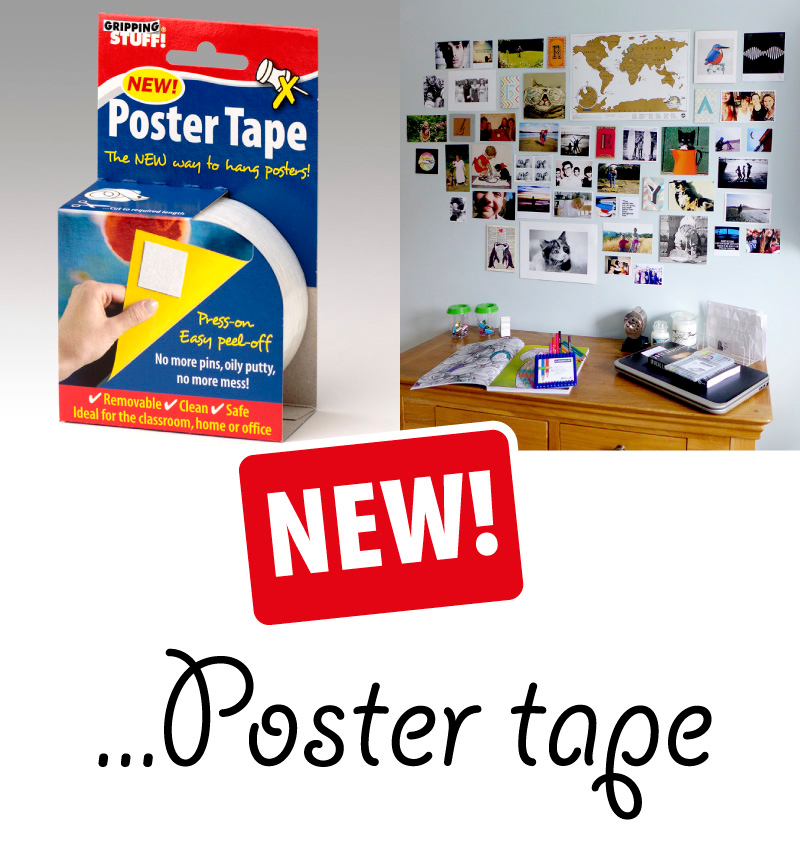 Leaves no markes
Our latest product – the perfect alternative to oily-putty and messy tape
If you have children or are a student 'in halls' you know posters and notes will be stuck on walls and doors typically with 'oily-putty' or 'sticky-tape'!!! Ah the mess and damage that can be left behind means you will start gritting your teeth – STOP – there is an alternative… Gripping Stuff!® Poster Tape leaves no marks and is ideal for displaying posters or notes.