Best-Selling Gripping Stuff Card Hanger PACK OF 2
Save 20p per roll with Gripping Stuff Card Hanger Pack of 2!
A card hanger that allows you to display your Christmas cards in seconds, without making holes in the wall! Gripping Stuff is a self-stick felt you can stick almost anywhere and is removable and reusable. Simply press-on your cards for a quick and fun way to create a display that the whole family will enjoy.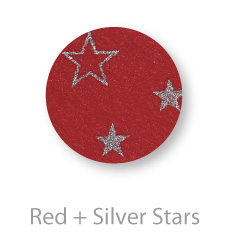 Additional product information:

Available in a bright 'Christmas Red' felt with printed silver stars - stick up in seconds and 'press-on' your cards in an instant, very easy to use.
Gripping Stuff For Cards, perfect for Christmas and Birthday Cards

Sticks almost anywhere! Ideal for doors and your hall-way.

Reusable and repostionable, 'press-on' and 'peel-off'.

Ideal Christmas display, bright red with silver stars
SIZE: 2 metres x 50mm (c. 79" x 2") PACK OF 2 *NEW*
COLOUR: Red with Silver Star Pattern